This is the first year since Kavya entered our kahani, that we've been at home in our own flat. For the past few years, we've spent Christmas and New Year's in California with my parents. This year, we went on a Disneyland trip to California over Thanksgiving, and spent Christmas with Sona's parents in New Jersey. So New Year's was a bit up in the air.
Over at MommyPoppins, there were all sorts of things to do listed for kids in the City, ranging from free events to kid-friendly shows like The Nutcracker, fun museum exhibits, and also places to see fireworks in the evening. If we didn't feel like taking the train for ten minutes into New York, there were also plenty of things to do in Jersey City.
Our plan had been to spend the day in the City, catch a special New Year's Eve storytime at Books of Wonder, then come home and welcome in the New Year in our flat by baking cookies with Kavya. I also had a kick-ass Ethiopian recipe with Tibbs Watt and Injera I was planning to make.
Our low-key NYE plans are not the result of us being parents. We've never really been much for crowds. Since having Kavya, that hasn't changed much, except now we have a more socially acceptable reason: "That Kavya," applicable to any situation really.
The first time me and Sona celebrated New Year's together, was also my first time in the City I would later call home. She was living a few blocks from Times Square, and asked me if I wanted to go see the ball drop, which is apparently a big draw for people coming to New York for New Year's. After a pause, I said, "Can't we just stay in and watch it on the telly?" She was relieved. I was relieved. We stayed in her flat, drank some fancy pant champagne her sister, Meena, hooked us up with, ate dinner, and we were nice and toasty indoors when the ball finally dropped.
On our India honeymoon back in 2006, me and Sona were on an overnight train into Mysore, armed with a bunch of food: pakoras, samosas, bottled water, two limcas, and a bag full of mithai. At midnight, the entire train was pitch black. We sat on an empty seat by the window, the loud whirring of the train, sounds of people snoring. We held each other's hands and looked out the window, as we toasted the new year and the mid-point of our six month trip with our fizzy limcas. The moon was out and every once in a while we could see each other's faces glowing in the light. It was lovely. Even when some dodgy bloke angrily stomped behind us to go use the loo.
When I was a solo traveler, I never had much of an interest in intentionally being squashed and having to jostle for space. I once made the mistake of going to Phnom Penh for New Year's when I should have just stayed in Ho Chi Minh and ate some pho. The problem with celebrating New Year's the way we're accustomed to, in places like India, Vietnam, Cambodia, and China, is that it's not organic. The Khmer New Year isn't until April. India doesn't care about the western New Year, unless you're in Delhi or Bombay or Chandigarh at some event catering to expats or VIP kids. In China, this is slowly changing with more and more people flocking to lavish displays of fireworks on public waterfronts. But generally, the expat and VIP kid New Year goes down exactly the way it sounds: stupidly.
Now with a new addition to Team Ishq debuting in just a month (yikes!), we're trying to create some fun family traditions. And what does Kavya intentionally do this year on New Year's Eve that even Mommy Poppins and Time Out New York can't fix? She gets royally ill. The flu. Chills. High fever. Cough. Sore Throat. And Sona is in full waddle mode, even though she denies it as she waddles over and quacks at me. The day before New Year's Eve, our plans to stay in our flat to celebrate 2014 goes tits up, and we're heading to Nani-ma's in the heart of suburbia.
And what do you do on New Year's Eve when you're in the suburbs with a sick 3 year-old and a pregnant wife? You go to the Dollar Store, of course. And you buy party hats, tiaras, pom poms, noise makers, confetti, and get a deal on a Santa Suit – 75% off with beard, all for under $20.
New Year's Eve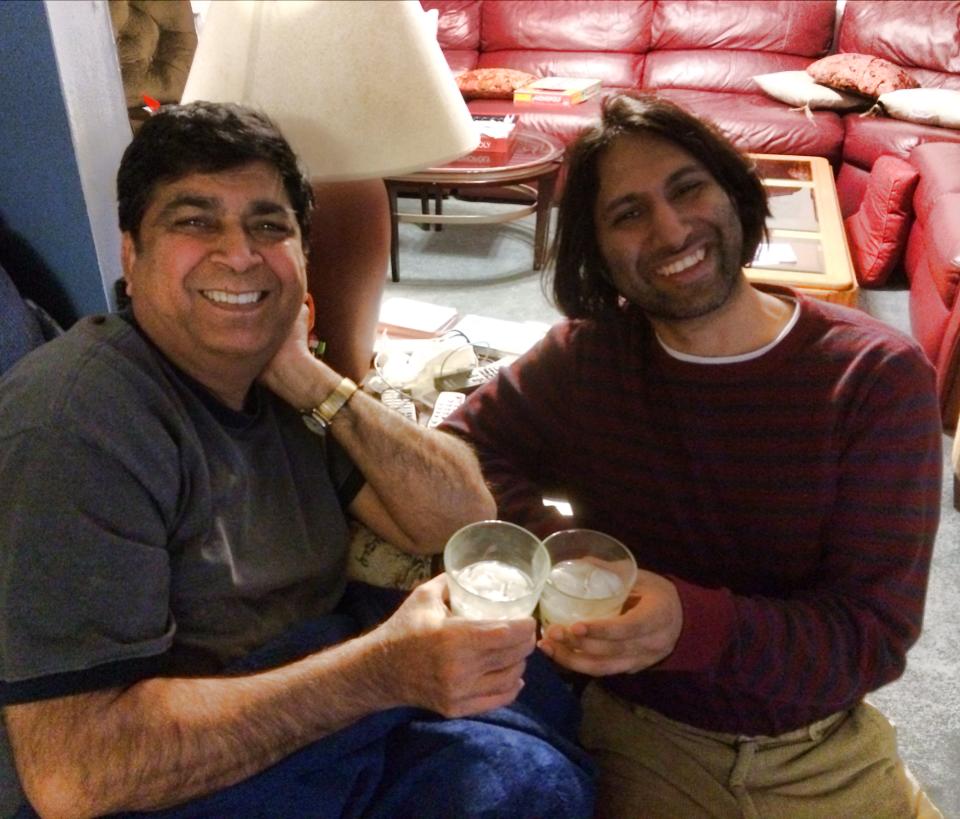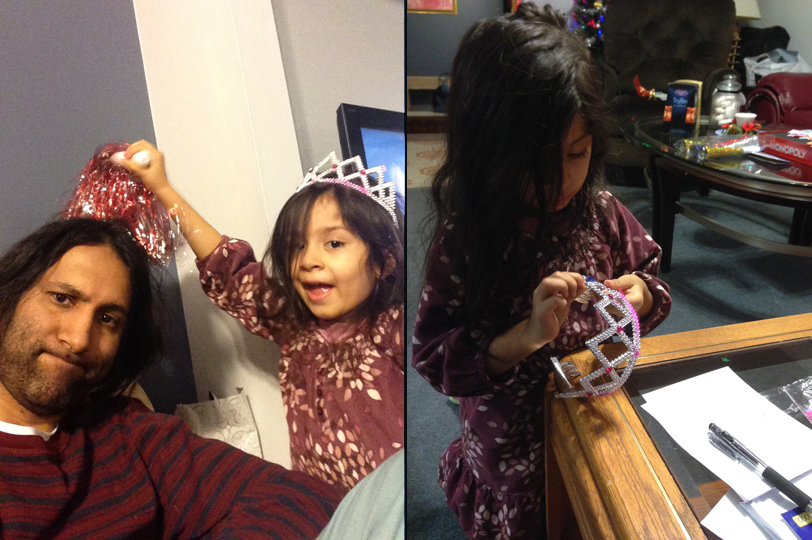 In the evening, me and Sona's dad start the evening off with a single malt. Thirty minutes later, he stares incredulously at his iphone. "It's only 8?" he says? We all change into our jammies, even though Nani-ma tries to convince us to wear our New Year fineries. A short while later, Sona and her dad are sprawled out on the sofa, snoring. Sona's mum is quietly sitting in the corner, sipping tea. Kavya has gotten into the spirit by ripping off the pink fluff on her tiara and then attacking me with a pom pom. Then out of nowhere, the lights ominously flicker, and it's pitch black in the house. Kavya stops attacking me for a moment. Sona wakes up. Sona's dad's reaction is, "chalo, mai neeche ja raha." And off he goes down the stairs to go to sleep and bypass the whole blackout.
"Who turned off all the lights?" Kavya says. It takes her a while to grasp the concept of a blackout. She goes to the lamp, and turns the knob. "Hey," she says. "How come this isn't turning on?" I attempt to explain what a blackout is. Again. "Everyone's lights are off. Look outside." We go to the window and look outside at complete darkness. Then she starts bumping into things to go turn on the kitchen lights. At this point, she wants to know who is responsible for all of this. Nani-ma makes the off-hand comment that she hopes the blackout doesn't last as long as it did during Sandy. "Who is Sandy?" Kavya demands to know.
Sona and Nani-ma manage to take the apple pies she's baked out of the oven in the dark. Me and Kavya go sit inside her princess tent in the living room, and I tell her a scary story about a Princess Dragon and her Papa, who roast marshmallows in the deep, dark, forest where they go camping. Somehow a teradactyl got into the story. Not sure how that happened.
After almost an hour, Kavya started getting a bit antsy, and insisted on going outside. She climbed onto my shoulders and we went outside to see how pitch black it was. The entire neighbourhood was dark. As we're coming back inside, she says, "Papa, shall we go for a drive?" She helpfully points her nose to the direction of the car.  And I think why not?
We get inside. I text Sona's cousins who live a few streets over and they tell us their lights never went out. Note for our next house: buy a place in the same neighborhood as the Mayor. Even during Sandy, their entire block was fine, with the whole family descending there to plug in phones, and take showers. Sona's dad was still sleeping and Sona's mom refused to leave the house in her pajamas and was too tired to change. Since we have no such boundaries, me, Sona, and Kavya all went over in our pajamas. This is the chaos that ensued: New Year bhangra, ice-cream cake, plenty of silliness, FOOD, and lots of yapping. The way any good New Year's Eve should go down. And most importantly, we got to wear pajamas to celebrate the beginning of a new year.
Here are some photos of the pandemonium:
How was your New Year's? What say you, stay in or go out?