In February, we welcomed a new little traveler to our brood and wasted no time in introducing him to traveling in style – on slings and prams all over New York City. We went on some fun family road trips in California over the summer, and ended the year with a lovely Christmas family vacation to Puerto Rico. It's strange to think that at the beginning of the year, we were three. Now it doesn't seem like there was ever a time when we weren't four. Here are our favourite travel moments of 2014.
Atlantic City gets a bad wrap with images of dirty beaches, smoke filled casinos, and overpriced diners as the only food options. Revel Hotel changed all that during its brief reign, with its incredibly family friendly resort, with a lavish swimming pool, beach access, lots of room for running around in the hotel, and best of all, you don't have to inhale a carton of cigarettes while walking through the casino in order to get to your room. Sadly, Revel closed down this September, but we have very fond memories of the place. We wanted to take Kavya along for the Baby Moon because as much as we were looking forward to our newest traveler, it was also sad that the trio we'd gotten so used to was going to change and we wanted to savor every moment.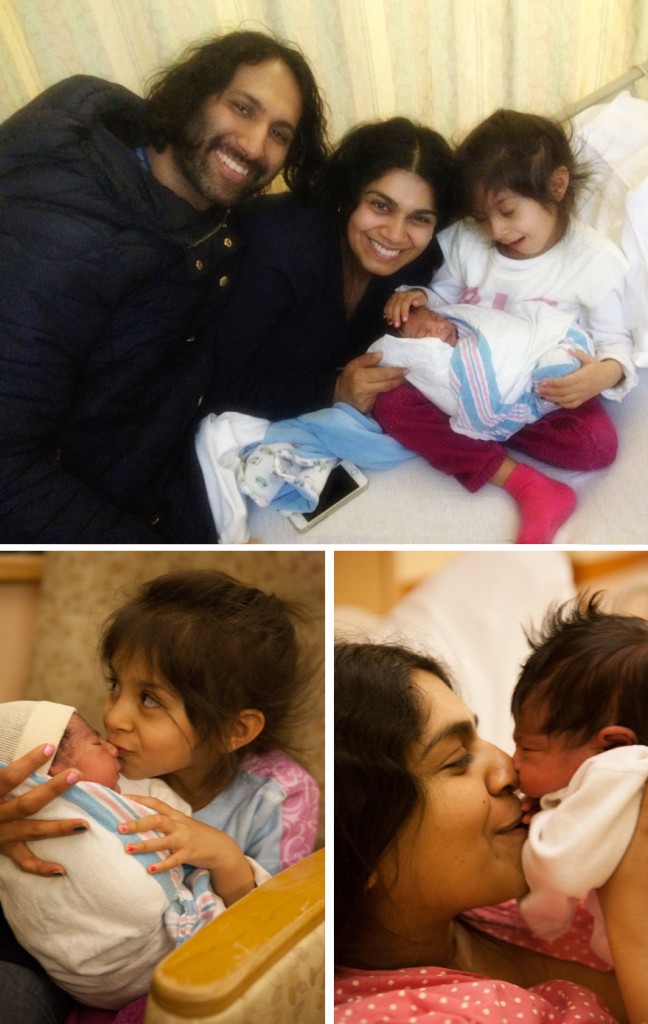 And Then There Were Four
Just like Kavya, this little guy decided he would come to the party in the middle of a snow storm and Superbowl Sunday. It's probably a sign we should at least learn the names of some of the teams! It's a ten minute train ride to downtown Manhattan, and we toyed with the idea of taking the train, before common sense got the better of us. No PATH baby for us. We stuck to Uber at 6 in the morning, along with our hastily packed bag: iPad Mini with Sona's books, my iPhone 4S and charger. No clothes or anything else. Those things we shoved into the bag like maniacs during the five minutes the Uber driver took to park right outside our apartment. While a huge winter storm threatened to shut down everything, Sona's dad drove like an Arctic explorer through ice and snow to rescue Sona from the hell of her claustrophobic hospital room. And say hell0 to his grandson. I was teaching on Sundays at BMCC (Borough of Manhattan Community College) and walked two blocks to teach the strangest class I've ever taught, then came back to the hospital room to hang with my son. The birth was surreal. Within two hours, we were a quartet. And it's like we'd never been anything else.
Sisters in the City
It's pure joy seeing Kavya spend time with her cousin-sister from California. They're a year apart and behave just like sisters should, giggling at silly things, having conversations with secret inside jokes nobody, but them understand, arguing about Frozen song lyrics ("Let the Stormeridge shine" versus "Let the Storm Rage On" is a hot button issue) one second, then putting a bag over their heads and banging into walls the next. My sister and brother-in-law came down to Jersey City to see Shaiyar when he was a little over a month old. We did a mix of staying home and jumping on the bed, with adventures in Jersey City and the City to go to the Museum of Natural History and Harlem for Gospel Brunch in the pouring rain.
Because Shaiyar and Kavya have a very gracious and fun Massi, who lives in NYC, me and Sona get to spend time as a couple in the City. Sometimes in the daytime, sometimes at night. This was a lovely surprise Sona planned that involves a wonderful introductory Greek cooking class in Midtown East. But first, we picked up some kulfi from a random street fair and took our sweet ole time getting to the place!
Traveling in Pairs!
During the summer, I got into VONA, an intensive, transformative, fiction workshop with Junot Diaz held in U.C. Berkeley. Apart from the occasional Papa-Daughter adventures into the City, we've never travelled separately anywhere, it's always been as a family. Me and Kavya took an adventure filled flight from Newark and she got to hang with her cousins and grandparents while I attended the week long workshop. Towards the end of my workshop, I took a lovely Amtrak train ride back to Fresno, where my parents were, while Sona and Shaiyar took a flight together, and we had a fun Californian summer.
Casa de Fruta is Pit Stop GOLD
Most pit stops along the highway are designed to quickly get you in and out. Casa de Fruta is not like those other pit stops. They want you to stay. Every single time we've driven down 101 to Northern California, we have always made a stop because it's so much fun. When me and Sona first started seeing each other "officially," she would run after peacocks, we'd buy a bottle of pomegranate wine, and sit on the grass eating ice-cream, before driving the hour and a bit to my sister's place. We've taken Kavya on the Merry-Go-Round, to eat ice-cream, and on a ride on the toy trains. Shaiyar is most definitely a fan.
Date Night: Comedy Club to see Hari Kondabolu (with drinks!)
Because of that Meena Massi, Sona was able to plan this surprise date night at Caroline's with my favourite comedian, Hari Kondobolu. The show was amazing and even the jokes i've heard in some form before were sharper, longer, and funnier. At the end of the night, I went and bought his CD. That's how much I liked the show. I own a MacBook Air and have no access to anything that plays CDs. Might as well have been an 8-track.
A Papa Slinging it to Coney Island
Sona had a major deadline to finish final edits on her novel, Tiny Pretty Things, she co-wrote with Dhonielle Clayton, so I was hanging out with the kids. It was such a nice day, I had no choice but to take both kids out of school due to great weather, and went to the beach in Coney Island. And we had to eat a hot dog. HAD TO.
Brooklyn Bookfest
Yes, Brooklyn has some great bookshops, some kickass restaurants and barbershops with hot towels and men who take their mustaches very seriously, but the Brooklyn Book Festival is hands down the one reason you should visit New York. It's three days of pure nerdy literary fun,with panels on everything you can think of with some major names attending. In past years, some of the highlights for me have been seeing Salman Rushdie, Marlon James, and Amitav Ghosh, whose essay, "The Ghosts of Mrs. Gandhi" is the best essay of the 1984 pogroms in Delhi I have read, and still gives me chills. There are tonnes of things for kids to do, with children's book authors, and this year there were publishing houses like Lee and Low, where we picked up several books with brown boys and girls as protagonists (#WeNeedDiverseBooks). And best of all, it's totally FREE.
Sona's Birthday with the A Train to Far Rockaway!
My surprises aren't as well planned as Sona's. Fortunately, we celebrated Sona's birthday four times because what's the point of having just one day to celebrate? Just because it's the end of September is no reason to be under the impression summer is over. We ate Arepas, and soaked up some sun on the A train, while we taught Shaiyar how to effectively be a Beach Bum. He celebrated by speedily crawling around in a circle.
Mama and Daughter in the City: NYC Ballet
While me and Shaiyar watched Star Wars at home and went grocery shopping, Kavya and her Mama bonded over ballet with this very kid friendly interactive performance in NYC.
Mama and Daughter in the City: Disney's Frozen on Ice
Frozen on ice. There's not much more to say about this one. The impression on Kavya's face when she found out where she was pretty much says it all.
Papa and Kavya in the City: FAO Schwartz
No reason for the outing, except that FAO Schwartz has always been a place I've wanted to go. I mean, I've wanted to take Kavya.
For Navdeep's Birthday, We Ate Fancy Steak at Delmonicos and Saw the Macy's Holiday Christmas Window Display
For my birthday, Sona took me for a very fancy steak dinner at Delmonicos. It's one of those places you think shouldn't be kid-friendly and yet it's super kid friendly. And thankfully loud. They even went out of their way to get a high chair for Shaiyar and the waiter looked Kavya in the eyes when explaining the difference between well-done and medium-well. On the way home, we walked by the brightly lit up Macy's Holiday Christmas Window Displays with some truly impressive artwork, evoking feelings of magic. Yes, magic is a feeling. And it's only a block from the PATH train station in Herald Square.
Old Town San Juan in Puerto Rico
We fell in love with Old San Juan's charming cobblestone alleyways with the blue tiles, our spacious and wonderful vacation home from Airbnb, the stunning history and beauty of the forts, delicious Puerto Rican food, and that we didn't even need a passport to come here.
Bioluminescent Bay in Fajardo
This is pretty much the only photo you're going to get of the bioluminescent water, whether you go by kayak, electric boat, or walking tour. Unless you spend a lot of energy lugging a tripod and a shutter release cable. We decided to just enjoy it and take the big stick they handed us on the walking tour to splash about the water. It's truly amazing and one of the best things to do, even if you're not able to immortalize it with your camera.
Eating Lechon in Guavate, the Pork Highway
We had to do it. A great road trip through the mountains for the most delicious barbecue I have ever eaten. An entire highway lined with lechoneras specializing in pig. Every single one of them. And yes, that's my son eating an ear.
Christmas on the Beach
My sister made Kavya a fully customized Capoeira Doll with an interchangeable dress, and a lovely book for Shaiyar Singh. We all wore Christmas outfits and did a professional job decorating the tree on the beach, while Kavya lead a Christmas capoeira class on the beach.
Glorious Sunsets in Puerto Rico
Our last morning in Puerto Rico, we all woke up early and watched the sun rise. We watched the sun set in Luquillo and on the beach on our vacation rental in Rio Mar. Nothing beats the beach, except when you add a sunrise or a sunset to it.