We don't drink beer on the fourth of July, or go to see fireworks and pyrotechnic displays in confined spaces. It's all about open spaces, bourbon, whisky, and desi drinks like cha and delightfully refreshing roohafza, plenty of grilling, birthday cake, and sparklers.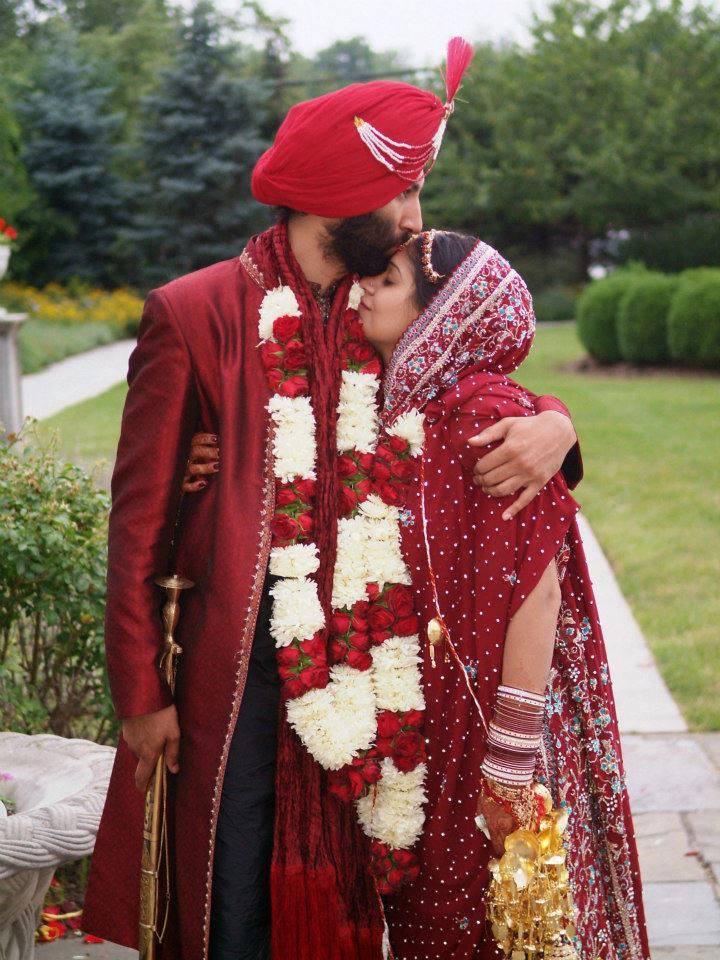 Despite the humidity that descends on the City, July is a fantastic month. Officially, our wedding anniversary falls on July 2nd, when we had two wedding ceremonies and a reception on one knackering Saturday seven years ago. Unofficially, we were married in Las Vegas quite a while before that. But as intimate as our Vegas wedding was (no guests, just me and Sona, and our friend, ihop), our official July wedding was also a very special time when my friends and family flew in from California and I even had some mates I met while travelling, come in from South Africa. It was an absolute madhouse with lavish outfits in the humid New Jersey heat, temper tantrums, lots of drama, a horse, a baraat, a dholi, a lovely Sikh Ceremony in Cartaret, a Gujarati pundit for the Hindu ceremony, who nobody understood, but he was incredibly entertaining, spectacular food, whisky in the evening, phenomenal dance performances by Sona's cousins, and an epic bhangra throwdown at the end of the night.
But back to the birthday cake.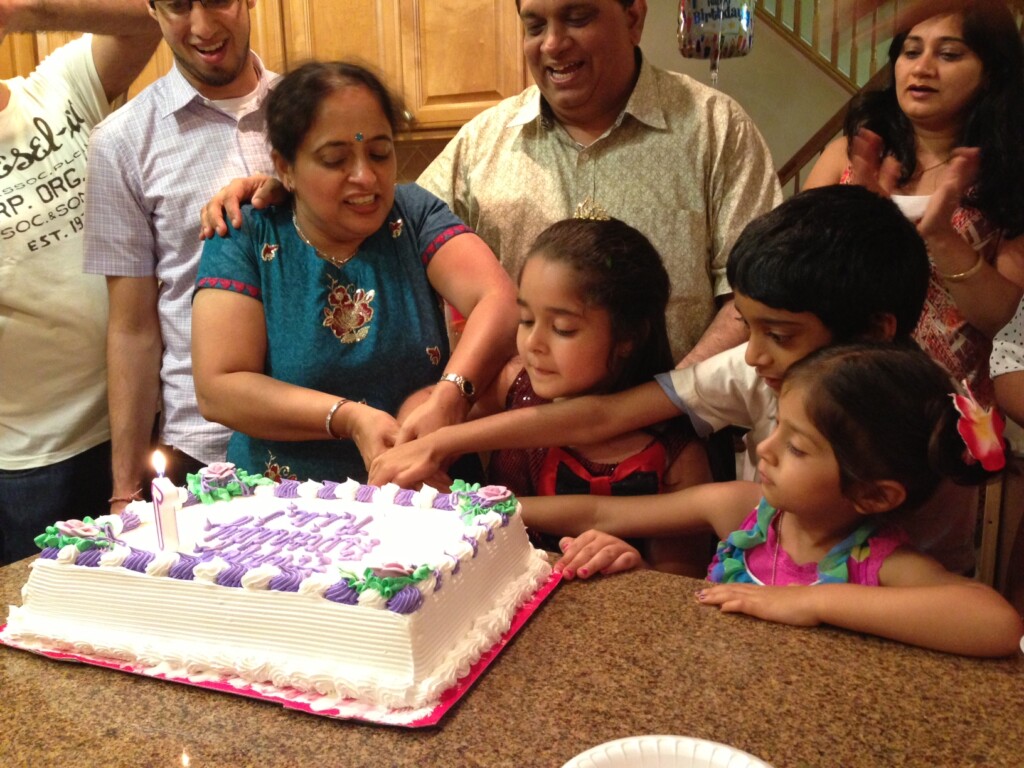 Sona's cousin, Ria, was born two days after our wedding, which we found out about while we were on our cooking honeymoon in Puebla, Mexico. Sona's Mamiji had come to the wedding nine months pregnant, and like a boss attended both the Sikh and Hindu ceremonies, and bravely stayed for most of the reception, just before the hooligans and ruffians (mainly just me) began being loud and disorderly. Two days later, she delivered Ria, whose birthday is inextricably linked to our wedding.
Unlike being a baby born on a day like Christmas, the beauty of being an Independence Day Baby is that sharing isn't involved. On this day, nobody else receives gifts, and most importantly, there is no religious affiliation, which in desi households can sometimes mean no eating meat or drinking alcohol, a travesty on a day like Fourth of July.
Yesterday was Ria's seventh birthday and it was a familiar setting. Ria had on a tiara,  there were cousins and friends over from India, Canada, upstate New York, various parts of New Jersey.  After the initial hellos, the groups formed, with the card sharks at one end of the house that mainly included the aunties and uncles, and of course, Sona's dad.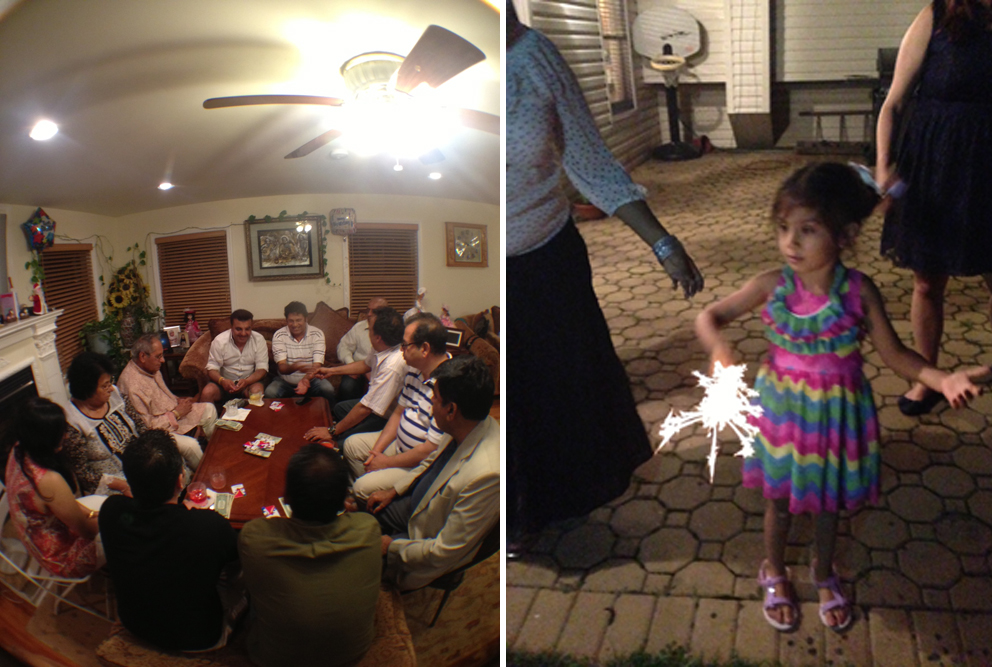 The kids were upstairs, and naturally the first place I go to hang out when the conversation at the table Sona was sitting at turned to wedding dresses and hemming. Some pretty interesting conversations with the kids, including one on racism in a show on Disney (I think) involving an Indian kid called Sanjay, who plays a socially awkward brown kid, and in one episode wears a turban and gets a pet snake which necessitates him charming it out of a basket with a flute. "Couldn't he have just gotten a rabbit?" one kid says. "Could be worse, " I say. "He could have been eating monkey brains," and nobody gets my reference to Indiana Jones.
Kavya and Ria are sitting in the playroom, engaged in various activities, from princesses to football to Barbie dolls and some game involving throwing a balloon around the room. In the background is the constant buzz of an Indian soap opera with overly dramatic music and excellent subtitles beneath it (I have grown tired of you!).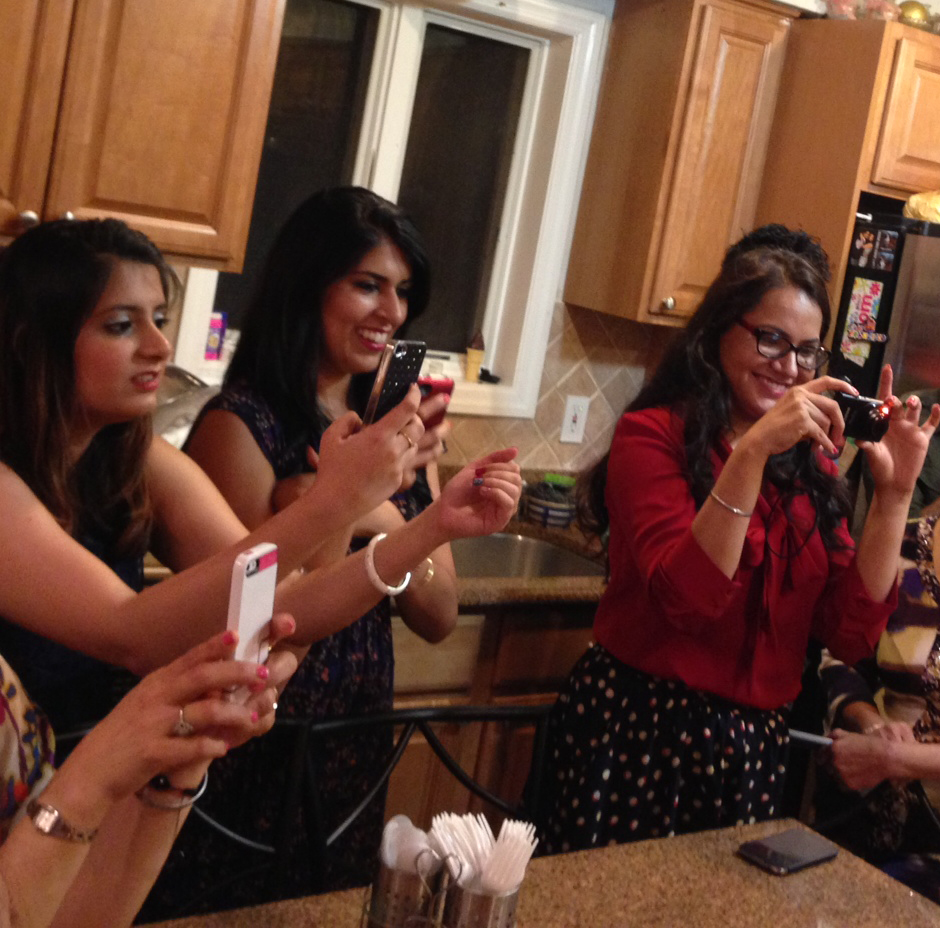 All the teenagers, including those of us in our 30s, me, Sona, and Meena – my sister-in-law, spent most of the night immortalizing the food, our faces, and the general events unfolding with our iphones. There were some fun instagram videos that got a hashtag beatdown with themes like "Say cake," to "be a firework," which were spliced together and uploaded and liked immediately. Above is an image of a small sampling of the Papparrazzi in attendance. Not to be confused with the Pappataci, Italian for small mosquitos.
After ice-cream cake and food, we head out to the back garden, where sparklers are brought out, and Kavya holds on tightly to our legs as she watches on. The first sparkler she gets she handles pretty well all by herself. It's a short sparkler that crackles and lights up, sending flares all over the place. The other sparklers were longer, brighter, and louder, which Kavya didn't like quite as much.When it gets a little quieter, she wants to enjoy the simpler things and starts going up and down the mini slide that nobody else is bothering to use.
She frowns mightily at two 14-year-old boys who shall remain nameless because they are stupid. They start throwing around sparklers and almost set the lawn on fire. "That's not very nice," she says, as she slides down, blissfully unaware that the two boys have  moved higher on the stupid ladder and have started lighting up five sparklers at one time. Because nobody else has any interest in lighting up sparklers, least of all the poor dude who bought them in the first place. I listen as a half-arsed argument ensues, and suggest to Kavya that we go inside after one more slide. Miraculously, she says, "Okay, Papa." We go inside and just as we're leaving, I can't find my chapal. So I return to the car wearing some beige bathroom slippers one of Sona's peeps loans me in the meantime.