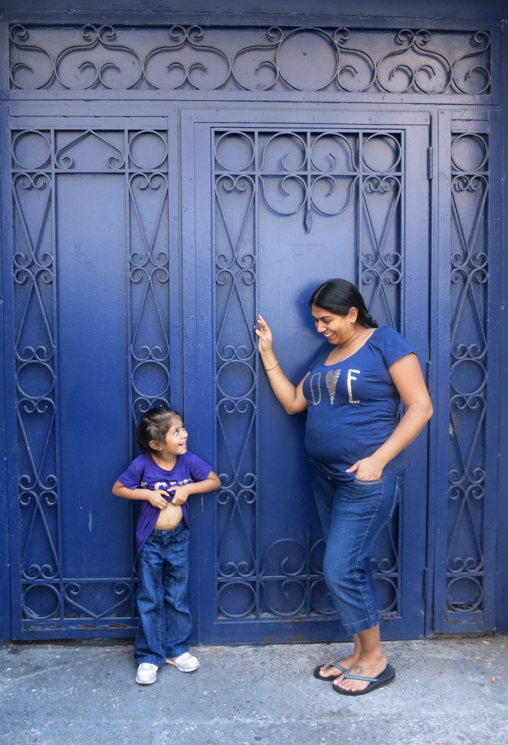 We're in the thick of a particularly chilly winter — unexpected after the last few winters' warmth (thanks, global warming!) — so today's throwback is a lovely reminisce about warmer times. One of our weekend jaunts in September, Navdeep, Kavi and I were taking a stroll through Union Square, where she likes to play in the sandbox and on the swings at the park before taking in the Hari Krishnas' chants, a street musician's busking or an impromptu free yoga class. This particular afternoon, we took her on her first ever bowling outing, which she enjoyed immensely, despite the fact that the ball weighed about as much as her.
She was also quite excited by the fact that she and I were wearing pretty much the same outfit — purple Ts (her's from mama's alma mater, NYU) and jeans. And while these days, my belly has burgeoned, back then (when I was about five months along), she declared, we both had "the same tiddu," so she decided to show hers off.
It's been fascinating watching Kavi's reaction to my tummy's growth — she knows there's a baby, and she likes to talk and sing to her soon-to-be sibling, but she doesn't yet get how things will change. But that's okay. We've got a few more months of fun outings as a cozy little family of three before we become a foursome — and she gets to introduce the new kid to all the fun places she likes to call her own in the city.