Way past Kavya's bedtime, we're walking along 7th avenue, through Times Square, with its massive LCD screens lighting up the sky, brightly decorated Christmas store windows and on the sides of buildings. Kavya's fluffy mitten fingers are coiled around mine, her eyes all over the place. "Look at that funny chair, Papa," she says pointing at a cement mixer turning down the road. We pause, so I can look.
We cross the street. "Are we going to a party?" she says.
"What makes you think we're going to a party?" I look at her grey and pink earmuffs that have slid down her jaw. I suspect the bright lights have something to do with this thought process. The crowds. The decorations. The music being played from some of the shops. Instead, she boils it down to the important bits:
"Look at all the candy in the streets, Papa, so many hot dogs and kebabs and rice." She dramatically gestures with her arms in the general direction of the little kiosks and food stalls we passed a few streets ago.
"Of course we're going to a party," I say. "It's a party with just me and you, where we will sit down at a table with a STOVE built inside it, and there's FIRE! They will bring raw meat that we have to cook. And we'll bhangra around in our seats, like fancy people."
She responds first by asking if we still have to pay since we're doing all the cooking, then appropriately flails her arms around like a maniac and runs down the street.
A little under an hour ago, we were a world away at our cozy little flat in Jersey City, wearing pajamas, winding down a day filled with reading and writing in Punjabi, Spanish, and English, drawing, and capoeira at the kickass Au Capoeira in Jersey City. Kavya was in the middle of a rather complex argument about why the lax laws of the weekend should be applied not just to a single movie; essentially, it was a pro- movie binging argument, and an added clause that I should bake her cookies and bring them for her to eat on the sofa because she is the Maharani of Patiala. I was about to offer a counter argument by attacking her with some of my advanced capoeira moves, but before I could get to that, I perked straight up when I looked at my phone and saw that I had a groupon for Bann, a Korean barbeque joint "expiring today." Sona and Shaiyar are feeling under the weather, so I decided to pose a leading question for my little superhero: "Want to go on a train to New York for Korean barbeque, NOW?"
"In the NIGHT TIME????" she says, leaping on the sofa. And that was that.
This is not my first time at Bann. Sona brought me here as a surprise several years ago when every night was a date night – we were living in Hell's Kitchen at the time, and I was lamenting about how I missed Hot Pot and proper Sichuan food, not this orange chicken and General Tso's riff raff available at every American Chinese restaurant. I must have mentioned Korean barbeque as well, which was a staple when I taught English in the bordertown of Dandong in Liaoning, China, right across the river from North Korea. For picnics, my friends and I would bring along marinated raw meat, and a portable little Korean barbeque, with plenty of chopsticks and homemade ban chan: kimchi, pickled veggies, as well as a delicious sauce I only knew as Mah Jiang until recently. Many of the Korean places I initially tried in the City had good, authentic food, but it wasn't barbeque. Korean barbeque holds special memories of picnics, Yalu Jiang beer, conversations with people from a different life. As soon as I saw the groupon, I snatched up two of them, instinctively knowing Kavya would enjoy a stove embedded in a table and cooking the food ourselves. I also want to take her for Hot Pot, which I still haven't tried in the City. I'm taking my shirt off and slapping my belly in the middle of eating, just so you know.
We arrive at Bann just in time for our 6pm reservation, mostly because we took a very leisurely walk. The hostess leads us through the bar at the entrance, down a long, narrow corridor, past the open-ish kitchen, with lovely lighting throughout, spilling into the main dining area. There's art everywhere, very nicely placed, with stone tiled floors, marble tables. First, we sit across from each other the way fancy people sit. But Kavya wanted to kick the fanciness up a notch and sit on the same side as me. She was very curious about how the barbeque worked and poked at the side of the barbeque with a chopstick.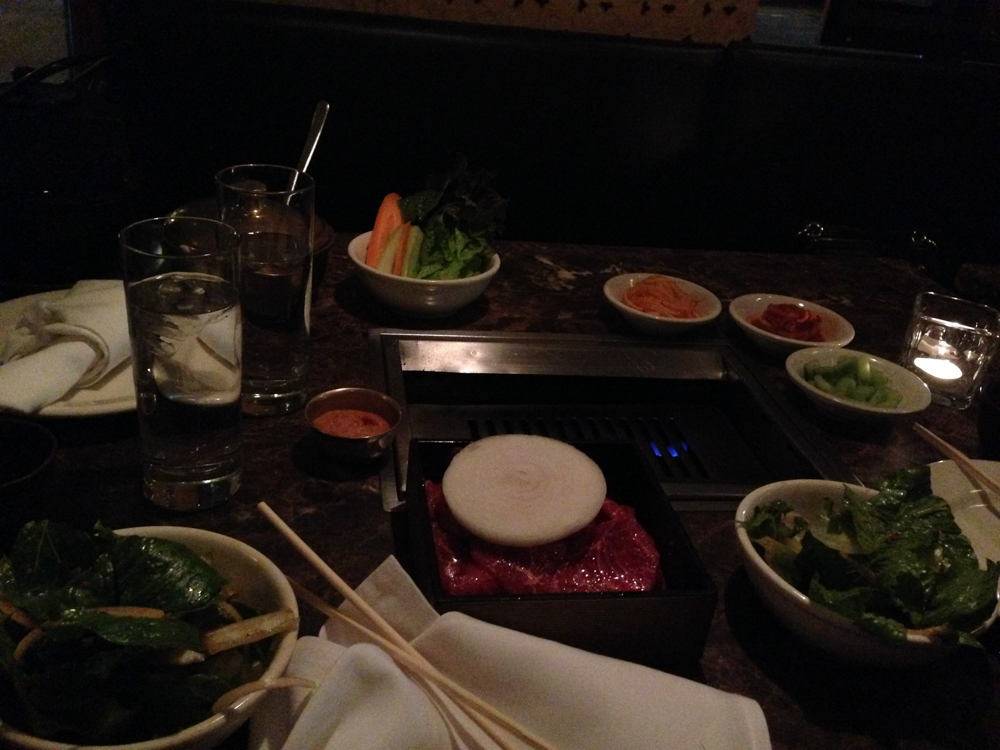 I strategically order the thinly sliced bulgogi for the barbeque ($30), even though the Hyaw Mit, sliced beef tongue, was a couple bucks cheaper, and I bet it's delicious. Next time. We also got Dae Ji Jim ($12), "Baby pork ribs slowly roasted in a tangy soy and chilli bbq sauce," which are as fantastic as they sound. And we had to get some green tea. Had to. Six bucks gets you a decent sized tea pot that sits on a warmer and two tiny, aromatic, earthy cups. Reminds me of khullar vali cha. Waiter brings it over and asks me if Kavya wants a cup. "Yes, the green tea is for me and my Papa," Kavya says, like we're regulars here and drink green tea all the time.
Service is fast. Instead of serving the ban chan (condiments) in small serving dishes like we've ordered in the past, they plonk down massive bowls filled with kimchi, pickled cucumber, radish, and mountains of fresh red-leaf lettuce with carrots, as well as a bowl of salad, a sizable dish of sweet miso paste.
I fire up the barbeque. Kavya glances at the stove, and over at the raw bulgogi sitting in a plate between us. I hand her the meat chopsticks. "These chopsticks are only for the raw meat."
"The rotten meat," she confirms.
"Raw meat," I say to a potentially lethal food reviewer.
We lift the uncooked bulgogi onto the barbeque until it's well done. I add it to her bowl with rice, kimchi. Then she says, "well done, Papa." Claps. "I wish Mama and Shaiyar were here." "Me too," I say. "All of us will come next time." She tries all of the ban chan, we talk about what kimchi is, then she decides she doesn't want anymore of the condiments. Proceeds to eat all of the bulgogi with rice and salad. Gulps down tea.
We're both pretty stuffed. She's alarmed at the prospect of going straight home and going through the boring process of sleeping. "Papa, can we go to another place after this."
"Everything is closed now," I say.
It's about 7:30pm and we're two trains away from home, on a Saturday night.
"But can we just walk some more and go to another place. Not our house."
Logic aside, this seems like a reasonable request – to hang with her Papa some more – so I say, why not. We leave the restaurant and unbeknownst to her, we're walking towards FAO Schwarz, one of the most well known toy stores in New York City. But first, we go one avenue in the wrong direction, which turns out to be Radio City and its brightly lit tree. Success! Most New Yorkers, including Sona, scoff at its relatively smaller size compared to the skyscraper sized one at Rockefeller Center. But Kavya thinks it's the biggest thing in the world. How big, you ask?: "It's even bigger than you, Papa!" That big.
We walk towards Fifth Avenue and are greeted with more lights. A horse carriage comes clopping down the road from the 59th Street entrance to Central Park, and she confides in me that she has never been in a horse and carriage in her entire life. I tell her I haven't either, and neither have Mama or Shaiyar. So we make tentative plans of doing that next time we come.
We get to the entrance of FAO Schwarz, next to the massive Apple store. A soldier stands outside to greet her, and what is Kavya enthralled by? The crap fountain in front of it. I warned her ahead of time that she couldn't buy anything and amazingly she didn't complain about wanting to buy anything. We roam inside for a good solid two hours. She goes straight for the $200 life sized Darth Vader with little buttons on it. Then to the lego figures, the big piano, video games, and we walk through the fancy doll section, which was quite impressive. Before we leave, we go up these steps to a tower. She's on my shoulders so she can see the view, and after several minutes, realizes this is pretty high up and we come back down.
And of course, she falls asleep on the subway ride home after fighting sleep in pure subway comedy gold.
The next morning, Kavya sums up our adventure perfectly with this conversation with her Mama:
Sona: "Did you have a good time yesterday?"
Kavya: "I liked everything, except for the cheese." (something Wallace would NEVER say).
Sona: What cheese?
Kavya: The kimcheese.
Sounds about right. More Kimcheese for me!