This morning I wake up to the news that Kīlauea Volcano on Big Island is erupting. Towns are being evacuated, videos show bright red lava spilling onto highways, grassy areas, and the governor is requesting national emergency status. My immediate reaction is to admire how pretty the lava looks, followed quickly by, Holy Hell, we were right there!
I don't know what it is about volcanoes that we find so fascinating. For our honeymoon in Mexico, we went to see our first active volcano – Popocatépetl (El Popo). We've seen the devastation Mount Vesuvius caused when it destroyed Pompeii through an exhibit in NYC (Sona has also seen the real thing in Italy with her sister, Meena, which I've been told repeatedly, is "much better").
A few years ago (2011), we went on a family trip to Hawaii and thought what better place to take almost two year-old Kavya, than an active volcano. We stayed in the town of Volcano, at the base of Kīlauea, a five minute drive to the National Park. We monitored the volcano eruptions on websites to be sure there was enough lava flowing, and were disappointed when it was relatively low. The idea that it could actually be dangerous wasn't really something we were thinking about, even though it sounds ludicrous. Everywhere you go in Big Island, you're reminded of how powerful it is, with fossilized lava that still looks like it's in motion, lava trees, lava tubes, and places you can even collect lava rocks!
The National Park has exhibits with photographs that show photographs of the times it's erupted. And still we can't resist it. When we found out about Kavya, we were in the middle of planning an adventure to Santorini in Greece, site of – you guessed it – an active volcano. We don't behave like this with storms. If someone tells us there's a massive storm coming, we don't pack the kids in the car and go racing towards it like maniacs. Red, hot, lava, though. That's another story.
The three options to see the lava are 1) hiking 2) a lava boat tour, and 3) a helicopter tour from Hilo. The first option seemed ideal with Kavya liable to go running off like a little gerbil. The second one advertised that you could get so close to the lava, you can feel the heat and sometimes it splatters onto the boat, so you should wear a poncho. That pretty much freaked everybody out and got shut down real quick. The third option was the only viable one. I didn't want to waste close to $300 per person and not see lava. "Might as well," Sona said, and that convinced everyone that this would be a good idea. And as usual, she was right!
Sona booked us on Paradise Helicoptors: Volcanoes and Waterfalls Extreme, which cost $280 per person, and one of the only tours that seemed pretty toddler friendly. Here's the description of the tour from their website:
"Feel The Heat! Take a ride in our Hughes 500 helicopter with no doors, and find out for yourself why the Travel Channel calls this the "hottest helicopter ride on Earth!" Kīlauea Volcano has been continuously erupting for 30 years, and even at 500 feet above the flowing lava and open vents, you will feel waves of hot air rolling off the subsurface flows, which can reach temperatures of 2,000 degrees! Along the way, cool off as you soar over Hilo's lush rain forests, Mauna Loa's vistas and the plunging Wai'ānuenue (Rainbow Falls), so named for the rainbows you can see in the mist when the early morning sunshine hits the water. There's no better vantage point than a helicopter, and there's no bigger thrill than leaving the doors behind so there is nothing between you and the sights!
Obviously, we chose the option without the doors. Kavya and the grandparents decided to go the slightly more saner route and kept the doors on. But they didn't feel the HEAT. The tour lasts 45 minutes and everyone gets a headset, which they can use to talk to the pilot and each other. Things got a bit silly real fast.
Here's how it all went down: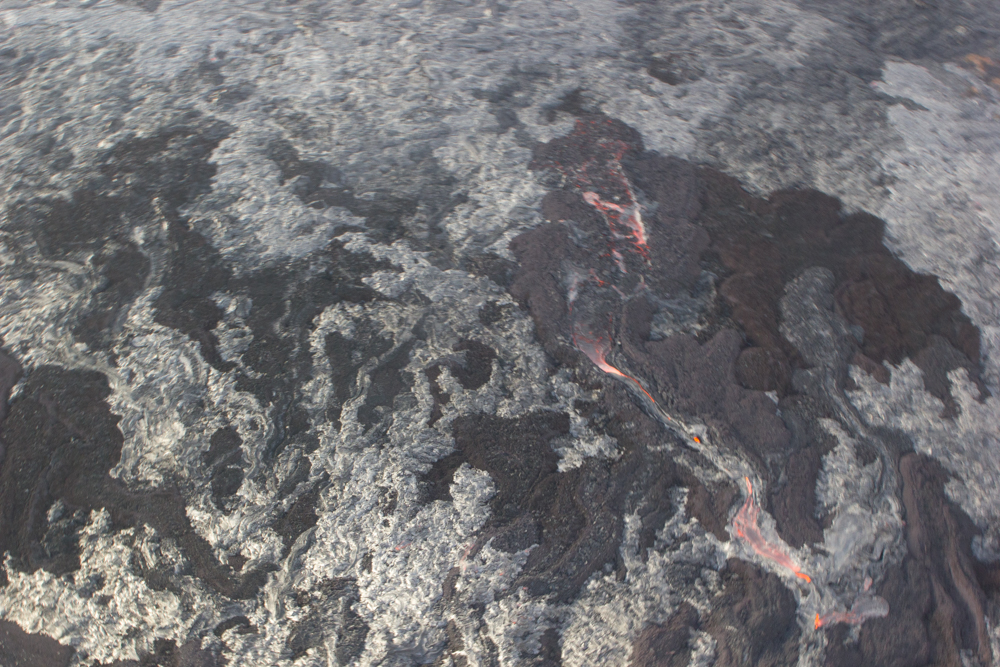 I didn't post photos of the Rainbow waterfall, or the rainforest, but the landscape is stunning, and it's amazing how you visit such a vast diversity of terrain in 45 minutes.
Anyone else gone on a helicopter tour?
We paid for all our tickets at the regular price and didn't receive anything from Paradise Helicopter Tours, other than a firm handshake, a speedy removal of our doors, and stellar service. We weren't asked to write any review, which would explain why it took us three years to get to it.