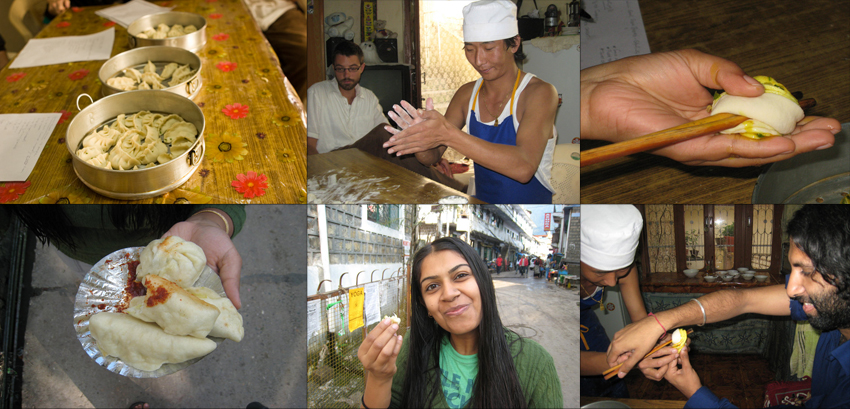 McLeod Ganj, known as Little Lhasa or Dhasa by Tibetans, has one of the largest population of Tibetan refugees, and is the headquarters of the Tibetan government in exile. So we thought a lovely way to spend our morning and getting to understand the culture of Tibetans in Exile would be through the food.
We went down a little side street and found Lhamo's Kitchen run by (who else) Lhamo, a very laid back and funny cooking maestro, who wears an apron over a wife-beater. You can't get more authentic than that. Actually you can: his cooking school is in his living room. An interesting thing we learned about momos – stuffed dumplings –  is that in Tibetan, "Mo" means "tasty." So, in effect, momo means "tasty tasty." Very fitting if you ask us!
We learned to make traditional Tibetan momos with veggie fillings, but the momos can be stuffed with anything you like. To prove this point, Lhamo told us we could even put chocolate in it! Traditional fillings are mutton, potatoes, and Tibetan veggies. The fillings we used in our course were vegetable, cheese, and spinach.
To make a spinach and cheese version, simply substitute one cup of finely chopped spinach and one-eighth cup cheese for the cabbage. Once you have the basics down, you can experiment with different fillings.
PREP                         COOK                 SERVES
40 minutes                  15 minutes              6
VEGGIE STUFFING
1 cup finely chopped cabbage, green or red
1 large carrot, peeled and grated
1 onion, finely chopped
1 tablespoon green onion, finely chopped
1 tablespoon green pepper, finely diced
1 tablespoon cilantro, finely chopped
1/2 teaspoon salt
1/4 teaspoon freshly ground black pepper
3 tablespoons mild oil, such as canola or soy bean
DOUGH
1 and 1/2 cups fine white flour, sifted
additional flour for dusting
2 tablespoons baking powder
about 3/4 cups water, as needed, to knead flour into a firm but pliable dough
EQUIPMENT
rolling pin
flat floured surface
steamer
INSTRUCTIONS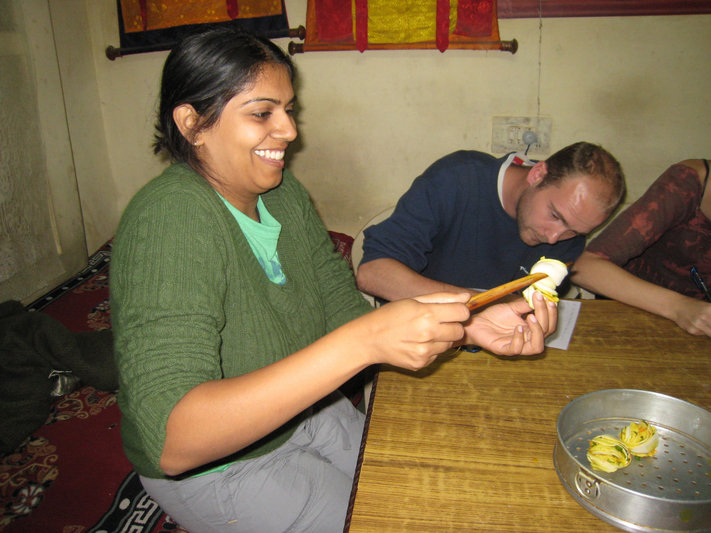 1. In a large bowl, mix sifted flour with water, adding a few drops at a time and kneading the mixture until a firm but pliable dough forms.
2. When you have a large, smooth round, cover bowl with plastic and let the dough rise for about 10 minutes.
3. Wash and finely chop cabbage, green pepper, green onion, onion, and cilantro.
4. Mince ginger and garlic, grate carrot.
5. In a medium-sized bowl, mix together all the diced veggies, salt, black pepper, ginger, garlic and oil. Let marinate for five minutes.
6. Take dough, which should have risen, and roll into a two-inch thick tube.
7. Slice tube into one-inch pieces, rolling each piece into a ball and then flattening the ball slightly.
8. Lightly flour each disc of dough. Then roll out each piece into a thin four-inch round. (For more perfect rounds, use a cookie cutter or jar lid.)
9. Place about 1 teaspoon of the vegetable filling at the center of each round.
10. Fold and pinch the dough together, almost forming layers, so it has a uniquely twisted shape when you're done. Here's a short Youtube video we made of Lhamo's demonstration on how to get the correct shape for the momos:
11. Repeat the process for each momo until you a have a large batch.
12. Steam momos over boiling water for 15 minutes, until dough has a chewy texture and glossy sheen. You can also pan-fry the steamed momos for
two-minutes over medium heat for a crisper texture.
Serve freshly steamed with chili sauce, soy sauce or even ketchup, although we can't vouch for the authenticity of that last condiment.