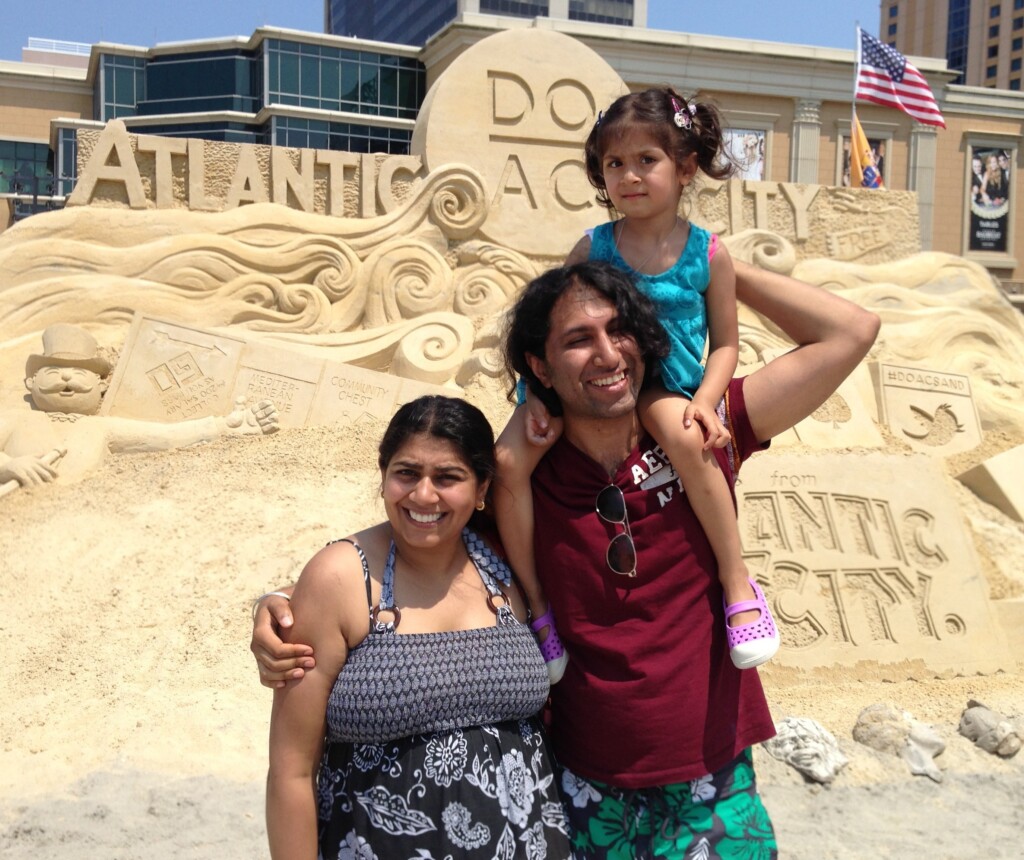 "Mama, can I have some hot cocoa?" Bleary-eyed but happy, Kavya spoke those words to me just as I was about to sneak out to grab some coffee. It was 8 a.m., and we were on holiday. We'd taken Kavya down to Atlantic City for a short little beach vacation. And that's really what it was, given the fact that Navdeep and I hardly gamble (though he did win about a $1.65 this time out). Three days lounging at the beach and the pool, taking in the elaborate sand castles in the World Championship of Sand Sculpting competition at Caesars, chowing down on Dominican and Vietnamese food off the strip, and, of course, playing some late-night (9 p.m.) Bonopoly in the comfort of our ocean-view room.
"Sure," I told, her, and we got dressed and headed out for a cozy little breakfast outing.
Revel is surprisingly way more kid-friendly than the other AC hotel we'd spent some time at earlier this summer — Harrah's. For one thing, it's right on the boardwalk at the beach, so you don't have to go somewhere else and park to get to the main destination. Secondly, it actually has an awesome indoor-outdoor pool that's open to both adults and children. We learned the hard way — with Kavya all decked out in her swimsuit, chappal and cover up, floaties in tow, that the Harrah's indoor pool with the big dome is actually an adults-only venue — apparently their liquor license makes it closed to kids. (Even though Revel's pool can serve alcohol, too.) The family-friendly pool, apparently somewhere on the fourth floor, was closed for renovations or something.
The one place where Harrah's did beat out Revel? They had hot cocoa. That's right, hot cocoa.
Perhaps it's a punishment for my own anti-milk youth — my parents would institute competitions between me and my sister Meena to see who could finish first, and she'd always win, because I wouldn't indulge them, since there was no prize — but Kavya won't drink plain old milk anymore. She refuses to touch the stuff. She will, however, enjoy a cozy cup of cocoa, which I generally make with plain cocoa powder and a touch of sugar. Easy enough in most cases, right?
Usually. But as Kavya and I learned the hard-way that day, sometimes asking for a simple cup of cocoa is a tall order.
One thing I will note — another mark against Revel — is that they've done away with the lovely free coffee and tea set-up they had going the last time we visited. A downer for sure. Still, we figured we'd head to the new Corso Coffee bar and get our fix. There was one right in the lobby, so we saddled on up. It seemed to have all the basics, but when we got to the front of the line and Kavya oh-so-politely requested her cocoa, the barista bluntly informed us that we'd have to go to the main coffee bar on the Casino level for anything as extensive as that.
Luckily, having been there before, we knew exactly where that was. So we hopped the elevator to the Casino level. There, Kavya enjoyed playing under the magical lights, which followed our path. Then we spent a few minutes staring out at the ocean, glittering just outside the big picture windows that lined the wall. Finally, we waltzed up to the Corso Caffe Bar, confident in our soon-to-be-cocoa-consumption. The coffee bar has a extensive selection of pastries, sandwiches, even pizza in the afternoon. But the one thing missing? Hot Cocoa! Even though it was on the menu! The barista there told us they just didn't have any. He suggested heading over to Luke's Market — "if anyone's got it, they will."
On our way to Luke's, Kavya relaxed for a minute or two in the many little lounges scattered across the Casino floor. Revel's pretty awesome in that way — there are plenty of family-friendly little nooks in which to chill — and they're all very carefully crafted to maximize visual interest, the little area that feels like an old school library, to the trippy nook that makes you feel like you're Alice, tucked under a huge red mushroom lamp. Others feel like mid-century modern living rooms, or an airy beachfront yard. Kavi enjoyed exploring all of these little nooks, with their spinning chairs and ambient lighting and thumping baselines.
But still: our mission was hot cocoa, first and foremost. We'd been on the hunt for about half-an-hour before we came across the Relish Cafe, an old-school diner serving up breakfast omelets and classics like meatloaf, spaghetti and meatballs, and fried chicken. So we paused there, thinking, surely, they would have hot cocoa. Alas, we were remiss. They, too, denied us that chocolately goodness, and directed us to Luke's. Which, luckily, was around the next bend.
At Luke's, they've got a wide array of sandwiches, pastries, gelato, prepared foods, and, of course, coffee. But guess what they simply did not have. That's right: hot cocoa. We were foiled AGAIN. On our fourth stop. And Kavya, now tired of exploring, was adamant that what she wanted was that creamy, warm cocoa. Nothing else would do.
At this point, I had resigned myself to actually leaving the resort's expansive property and heading out to the boardwalk to find a coffee shop that actually had hot cocoa. But as we retraced our steps through the Casino level, Kavya forlornly lounging here and there again, we again landed at the Corso Caffe. I perused the menu and decided to take action. They may not have had cocoa. But they had mocha syrup. And they had milk.
"Steam up some milk and add a shot of mocha," I instructed the barista. "Not too hot — it's for the kid." He served up the frothy cup, and then it was the moment of truth. Kavya took a sip. Finally. An hour into our hunt. And then she said the words every mama longs to hear: "Mmmmm, cocoa!" She approved. Halleluyah! As she sipped, Kavya's crankypant status magically changed to comfy and satisfied, ready to head out to the beach and take in the sun. But first, we had a coffee delivery to make.
Of course, when we got back to our room, coffee and cocoa in hand, Navdeep was still tucked under a pile of blankets, AC blasting, sun streaming in, the ocean glittering some 20 stories beneath our window. So we woke him with a serenade: "Lazy bones, sleeping in the sun…" And then, as he sipped his coffee, black, no sugar, we told him all about our hunt for hot cocoa.