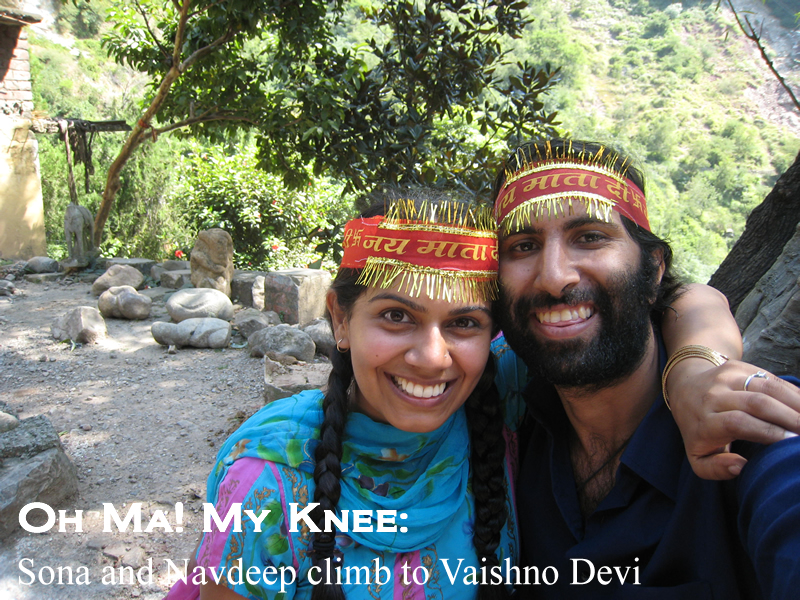 I don't really know when or how it was decided that Navdeep and I were going to make the pilgrimage to Vaishno Devi. Neither of us are terribly religious, he had never heard of it, and it was an 18-mile hike up and back. Not something to be taken on lightly.
Perhaps it was my mom who planted the thought. She seems like a likely culprit. She's been a few times herself, and seriously believes prayers delivered at Vaishno Devi will be considered and answered. This concept of munatay drives millions to the site of the Mata Ki Darshan every year. Despite the treacherous hike, despite the heat, despite the fact that the actual darshan is maybe three seconds at best, a blur of armed guards, marble and gold.
We've all had a tough year though, and I know my mom saw our trip as an opportunity to sprinke a little hope, at the very least. So Navdeep and I made the trek carrying the prayers of our loved ones. Not that we didn't have a good time doing it. We looked at the hike as a bonding adventure, and we took it seriously. Though we were amongst the few pilgrims who could afford a 250-rupee treacherous donkey ride up steep, winding steps, or even a 3000-rupee one-way helicopter ride to the top, we wanted to make the trip ourselves, along with the thousands of other Indians from all over the country (and the planet) who chose that day to make the climb.
But it wasn't easy. My mom promised us that the hike would be two hours up and two hours down. Ha! I'm no avid hiker (or hiker at all!), but I can handle a good walk. So Navdeep and I set out at 11 a.m. at a leisurely pace, stopping for ice cream, cold coffee and juice, posing for pictures, admiring the hilly countryside. By two p.m., we had barely hit the half-way mark. By the time we reached the actual site of the shrine at six p.m., it was sunset and we were exhausted.
We bathed and put on new clothes like proper pilgrims, then set about delivering our prayers. Despite my cynicism, it was hard not to be moved by the religious fervor of others. Old ladies and five-year-olds alike chimed in unison, "Oh Ma, teri sadai jai!" Whenever spirits or energy lagged, there was a chorus of "Jai Mata Di" to rouse them.
When we finally got in line at the shrine site, we sat for another two hours, Navdeep and I just absorbing it all while other pilgrims chattered about their journeys up from the North, the South, just about everywhere. And then it was finally time for the big moment. We shuffled along, prayerful offerings in hand, through an endless series of caves, where bells chimed like a chorus, reminding me of childhood trips to the mandir, when my daddly would lift Meena and I up so we could ring them too.
We reached the top of the steps, where statues of Sher-o-Wali Mata and companionable lions graced the entrance. We followed the crowd single-file through a long marble tunnel with water flowing along the edges. Then there was something on my foot. It was a one-rupee coin, which Navdeep proclaimed lucky. And so we kept it.
We were ushered in for a glimpse–stones decorated with reverence in silk and gold, guarded with the lives of soldiers. Religion is an odd thing. But Vaishno Devi was a fascinating experience. It was interesting to see how the fervor takes people and how easy it is to get carried away in it. To see how much people need to believe–eve me, sometimes. How nice it would be if such a pilgrimage, made with true intent, could work the miracles that we ask for. But maybe it's the journey itself that's important. I think it was for me. And whether or not those prayers are answered, I do have one thing to show for it–my old-lady knee!