Who We Are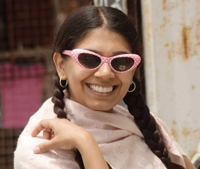 Sona Charaipotra is a New York City-based journalist, who works from home and on the road, while wearing her pajamas. She has written for Cosmopolitan, the New York Times, People, TeenPeople, American Way, Modern Bride, and loads of other print publications. She has blogged for CafeMom, Mom.me, and MSN. She graduated with a Masters degree in screenwriting from N.Y.U.,  went on to earn an MFA in Writing for Children from the New School, and is currently completing a novel. She was born in Iran, and raised in New Jersey. Before meeting Navdeep, she had only traveled in air-conditioned trains with family in various parts of Delhi. She still goes into hysterics at the sight of a cockroach (or the mere mention of any creepy crawlie within a 20 foot radius of her vicinity), but feels like her packing skills have improved (exaggerated roll of Navdeep's eyes and a not so subtle, "Pfffff").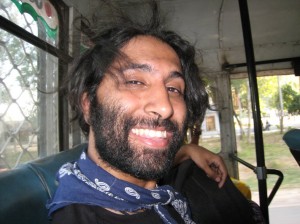 Navdeep Singh Dhillon is in the lucrative field of adjunct teaching, where he teaches university courses like English composition, Film and literature, and Creative Writing. When he writes freelance articles or non-fiction essays, he makes it a point to wear pajamas. He holds an MFA in fiction and is also working on a novel. Navdeep was born in England, raised in East and West Africa, the Middle East, and the United States. He was a linguist in the U.S. Navy, where he served for eight years, has taught ESL in China for two years, traveled extensively throughout SouthEast Asia, and speaks several languages well enough not to accidentally order tongue, hoof, or buttocks. But not well enough, apparently, not to remember that Tartare means "raw" in French. Navdeep has traveled by donkey, camel, rickshaw, truck, elephant, a really bumpy yak, 4th class train, moped, scooter, motorbike, and in recent years, a limo, and a helicopter. But he still enjoys the thrill of riding in the back of a freezing cold cattle truck in Tibet, with five men who insisted he was from a region in China called Xinjiang on account of his ability to grow facial hair.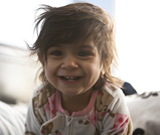 Don't let Kavya's small frame and friendly smile disarm you. Stay vigilant. She is the newest member of our family and definitely the most energetic. Learn expert tips on haggling techniques, the right hat to wear when you're cooking, and her staunch positions on things you would think nobody took positions on. Got a position on water? On blue verses pink sippy cups? Clean verses "dirty" soup? Not to worry, Kavya will give you a no holds barred account. Her favorite food is hands down chicken and rice, but that doesn't mean she won't eat and thoroughly enjoy crepes, burgers, jiaozi, noodles, grilled sandwiches, a crisp summer or winter Vietnemese salad.
What is Ishq?
Ishq is one of those words that has no direct English translation. Some feel substituting the word "love," is a reasonable effort at translation, which is the difference between eating a dog and eating a hot dog. The cognate for "love," is the word, "piar," a measured emotion that can be used with abandon. You can love your parents, a celebrity, a movie, ice cream, samosas, or a significant other, but never your soulmate. There's nothing all that special about piar. It's a conditional form of "like," and the sincerity of it gets confusing when you have to ask if it's "like-like," or just "like." There is no ambiguity with Ishq. If you have ishq for ice cream or samosas, you've got some real problems. Ishq is an intense, Shakespearean tragedy type of love that defies logic and rationality. Ishq is what I felt for Sona the first time she wrote me an email that began our whirlwind romance. And ishq is the overriding emotion that fueled our totally impractical six month honeymoon through India, as well as our continued honeymoons, both big and small, all over the world.
When we took our first trip as a couple in 2007, we created this site as a way to keep our family informed, and were pleasantly surprised that so many people liked what we had to say. Back then our tagline was, "a honeymoon adventure." Then it changed to "the backpacking couple." We took an incredibly long break from blogging once Kavya, our fiesty daughter was born because we had a tough decision to make: to rebrand Ishq and keep it going or to pack it in. Fortunately, we decided we wanted to keep it going and we are now and will always be a travel mad mum and dad. We've decided to let ishq run as amok as it can when you have a three-year-old daughter and live in America where health insurance isn't free.  We are flashpackers for the time being, but always with the goal of experiencing a country from the inside out: experiential travel.
What We Blog About
IshqInABackpack is for anyone who appreciates the written word, the spirit of wanderlust, and is interested in the most important part of travel: THE FOOD. We devour street food like maniacs and when we're at home pining for the tastes and aromas of past adventures, we attempt to replicate those dishes. We provide a sense of cultural immersion and place through our writing, peppered with videos, and photography. We want to get you excited about experiential travel, whether you're a couple, a family of well seasoned travelers, on the road, or sitting at home thinking about going on an adventure. We write about:
Traveling as a couple and with a baby (Kavya is now 3)
Food: we attempt to replicate dishes with our version of recipes for things you know you're craving
Photos and Videos. We create slideshows, galleries, a weekly photo, and videos that highlight the travel experience
Reviews. We review everything a traveler would review: tech gear, restaurants, tours, and books
Mission Ishq: This year (2013), we made travel resolutions and this is our way of making sure we stick to them!
Disclaimer
While our ethics concerning lying to our daughter to get her to go to sleep are questionable, our opinions cannot be bought. We occasionally accept products and other forms of compensation for the purpose of evaluation, but our first and foremost obligation is to our fellow travelers and readers. Just because we receive something for free or at a reduced rate doesn't mean it is an automatic endorsement or ensures a positive review. We write our own reviews based on our experiences. We participates in a select few affiliate programs for companies such as Amazon, Living Social, and Groupon. These are companies we have been purchasing products and services from for several years, well before we monetized our site.  We include links from these affiliates in our blog posts only when we feel they are relevant. A review of a camera bag, for example, might include a link to that bag on Amazon. When you purchase an item after clicking on the "affiliate" link, we receive a few cents from Amazon, which promptly gets deposited into our family travel fund. None of this college fund rubbish. =)