Sona has been posting about this Indian-Latin fusion place called Taco-Mahal for weeks. The conversation always goes the same. She'll post a delicious photo or video on instagram or twitter or Facebook or via text message or group chat.
It's followed by everyone on the chat using various drooling or heart-eyed emoticons to signify how enamored they are with the food. And it did look delicious: a fluffy naan wrapped with some sort of juicy desi meat dish.
Some of her friends would use actual words, which were veering towards something actionable:
"We should goo!!!!!!"
Then I chime in and say, "when????" Followed immediately with dead silence, or a conversation about something else would begin.
Sona, being the fool she is, decided to work on her novel instead of going out to dinner with us. So it turned out to just be me and Kavya, who is always down for an adventure, and even more down when that adventure is on a school night and centers on food. She was already in the City for a makeup Carnatic singing class, so right after that, we took the train to the West Village and walked the few blocks to Taco Mahal, which sits right on the corner of Seventh Avenue South and Barrow.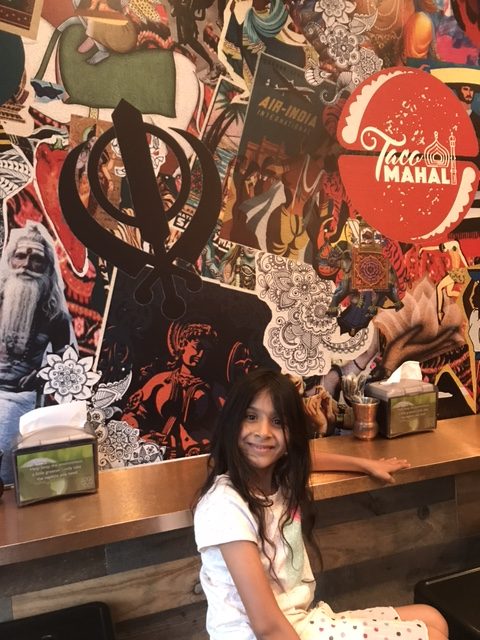 We walk inside and Danikka smiles at Kavya as she hands her a menu. We sit down on the stools inside, mainly because Kavya likes the artwork, and recognizes the image of the Sikh khanda immediately: two kirpans, a double-edged sword, encased in a chakkar.
While she reads the menu, I tell her the lovely father-daughter story of Taco Mahal, which I'd read about from the site while Kavya was belting out her swaras during class.
The father, Mr. Josan, has a good robust Punjabi Sikh last name, which accounts for the image of the khanda, a Sikh symbol, in the midst of colorful pictures of Hindu Gods and Goddesses, and various other things on the wall.
Mr. Josan ran a magazine shop here for thirty years until his daughter, Danikkah, decided to join forces and transform the space into a restaurant. Her mother is Latina, so the fusion of the cuisines from these two cultures sounds like a very natural part of the food she ate growing up.
Kavya took a look at the menu and couldn't decide whether she wanted the roti or the naan for the outer layer. And I'm no monster, so I told her we could do one of each, and share.
She studies the menu. "Do they have Tari-wala chicken?" I look over at the menu, and say, "Chicken curry has most of the ingredients we use."
"Rogan Josh?"
"Lamb curry."
"This menu is kinda funny," she says, as she gets up to order from Danikka.
While we wait for the food, there are some good tunes being played. Four Punjabi songs! And a couple Hindi songs. Before it got too crowded, Kavya carved out room to alternate between bharatnatyam and bhangra.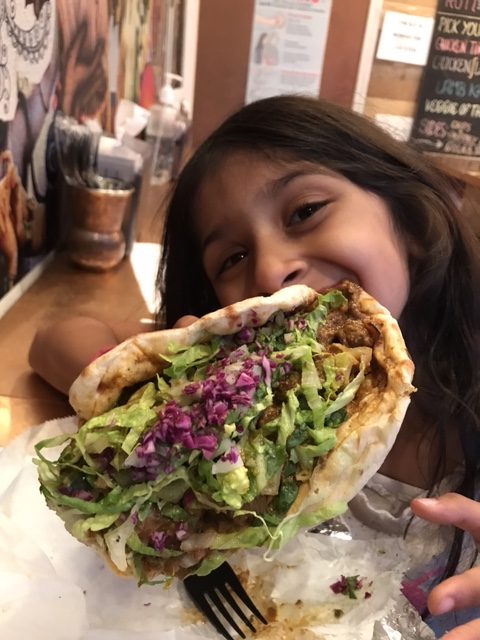 The food came out wrapped in foil. The naan taco was bigger than Kavya's head. The food looked amazing and they both tasted good.
I was intrigued about how well the tacos would hold up because the idea of replacing the soft corn tortilla containers that tacos are known for with naan or roti, is pretty damn brazen.
Kavya is all about Rogan Josh aka Lamb Curry. And it had most of the classic trademarks of rogan josh: reddish color, braised lamb chunks cooked in desi masala, with that delightful aroma of ginger and cardamom.
And thankfully, it also had a little bit of a kick. Kavya devoured the whole thing, grasping the taco with both hands, maneuvering her face closer to the table. Towards the end, the taco got pretty much destroyed. Definitely a top choice to fill your stomach.
The tari-wala chicken aka chicken curry wrapped in roti was smaller and much more manageable. It was also had all the elements of masala and aromatics, a little crunchier because of the roti, and because it doesn't require such active participation in the theater of eating, you can have some smalltalk.
Kavya used the opportunity to a) point out that some of the people ordering were pronouncing roti and naan as if they were English words, and 2) tell me that the star of the show was the homemade chutney that she tasted more prominently in the chicken curry taco.
When we're finished with everything, it's almost 9.  She tells me she wants water. Like a good, responsible father, I say, "you can either have water, or you can get some ice cream."  I raised her well and she makes the right decision.
Next Papa-Daughter food adventure: grasshopper tacos and black-ant guacamole in the East Village . . . . . probably not. But she is still fuming since I took Sona to get spectacular pumpkin dumplings at a mall in Queens a year ago, while Kavya was at school. This is what she thinks we do all day.